Last outburst of V442 And and the message of Noel Richardson for the last alert :
"Hi everyone,

Many of you will remember that Olivier Thizy found V442 And (HD 6226) in outburst last summer. The intense spectroscopic time-series along with some other measurements made at the time prompted myself and some colleagues to propose for Hubble Space Telescope ultraviolet spectra, which are scheduled for sometime between now and March 17.

As we were aiming to get the fundamental parameters of the star well constrained with Hubble, we obtained a complimentary optical spectrum with the echelle spectrograph at Apache Point last night. The disk is back and strong, and I am asking for the ARAS group to monitor the star again over the coming weeks, both to have contemporaneous data with Hubble and to monitor another outburst. I've attached images of H-alpha and H-beta taken last night at APO. I'll be using our telescope in Toledo, along with some other colleagues in North America, but this time of year usually gets pretty bad for monitoring here.

Thanks in advance for your help.

Clear skies,

Noel Richardson, University of Toledo"
Here's the spectrum of V442 taken last night and comparison with the last spectrum in Bess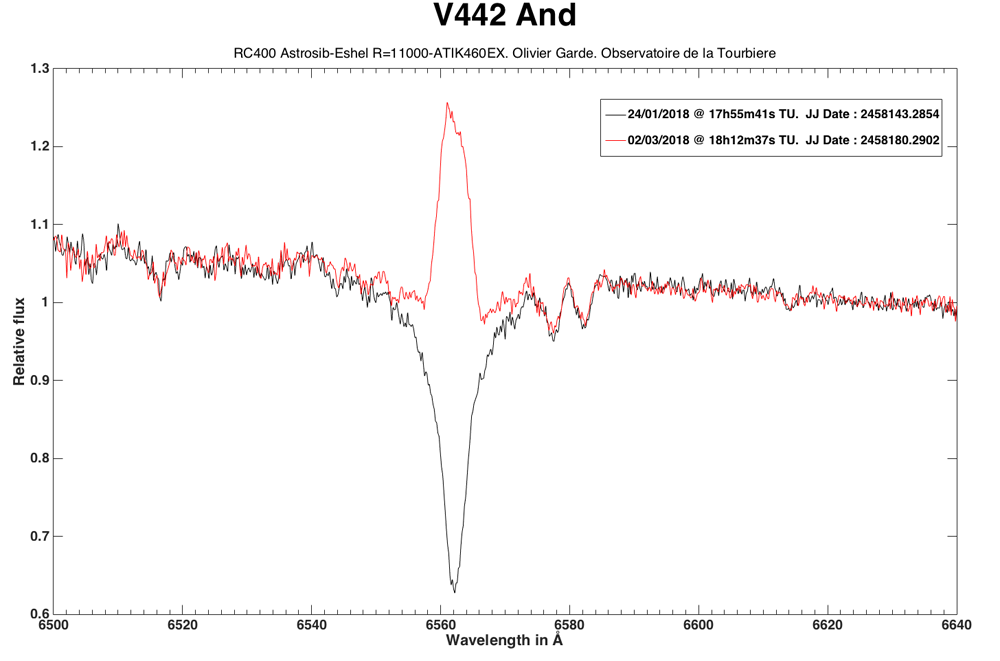 All spectra in high resolution are welcome in Bess database :
http://basebe.obspm.fr/basebe/